Often flamingos in captivity are fed shellfish rich in this pigment in order to brighten their colorful appearance and heighten their appeal. Because the pink dolphin also feeds on these animals in the marshlands and flooded planes of the Amazon basin it is thought the same pigment accumulates in its skin as it gets older. I realize that now I am talking about the Pink Dolphin of the Amazon, however the have the same characteristics and coloring of the Chinese White Dolphin, just a different geographical location.
Size and Weight:
Males grow 8.4 feet and weigh 345 pounds.
Females grow 6.6 feet and weigh 217 pounds.
Lifespan:
Has not been determined. Based upon their size, some scientists believe they live as long as 35 years.
What's killing the dolphins?
Reclamation Construction of the new airport at Chep Lap Kok and the North Lantau Expressway have destroyed pristine natural coast and shallow marine habitat. More dolphin habitat will disappear when container terminals are built on reclaimed land at Yam O and Lung Kwu Tan, both areas frequented by the dolphins. Contaminated mud from reclamation is dumped in the seabed just north of the new airport platform.
July 2007
A pink dolphin that's not a Pink Dolphin: An Albino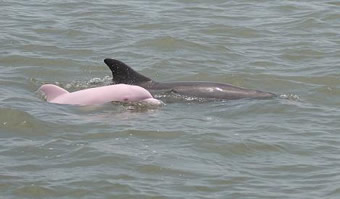 The photographs displayed above were taken on 24 June 2007 in Calcasieu Lake, Lousiana. (Calcasieu Lake is just east of the Texas-Louisiana border and connects to the Gulf of Mexico.) The pictures of the pinkish dolphin calf were captured by Capt. Erik Rue of the Calcasieu Charter Service, who described his encounter with the unusually-colored animal for ESPN:

I just happened to see a little pod of dolphins, and I noticed one that was a little lighter," said Rue, who was fishing just south of Lake Charles. "I shut down and kind of waited around because I wanted to verify what I had just seen."

They waited for the pod to resurface and after a couple of minutes, Rue confirmed that he wasn't crazy. Much to the delight of the guests, who thought they were done, he had spotted a pink dolphin.

"It was absolutely, stunningly pink," Rue said. "I had never seen anything like it. It's the same color throughout the whole body. It looks like it just came out of a paint booth." The calf's pinkish appearance is likely produced by blood vessels underneath its relatively thin layer of blubber which create a pinkish-red hue that would ordinarily be masked by a typical dolphin's gray coloration.

According to marine biologist Dagmar Fertl, this event was only the third reported sighting of an albino bottlenose dolphin in the Gulf of Mexico (going back to 1994), and the fourteenth spotting anywhere in the world (the first coming in 1962). Biologists speculate that, in addition to the rarity of their birth, the scarcity of albino bottlenose dolphins might be due to their having poor eyesight, increased sensitivity to sunlight, and a coloration that provides poor camouflaging, factors which could significantly decrease their chances of reaching maturity.